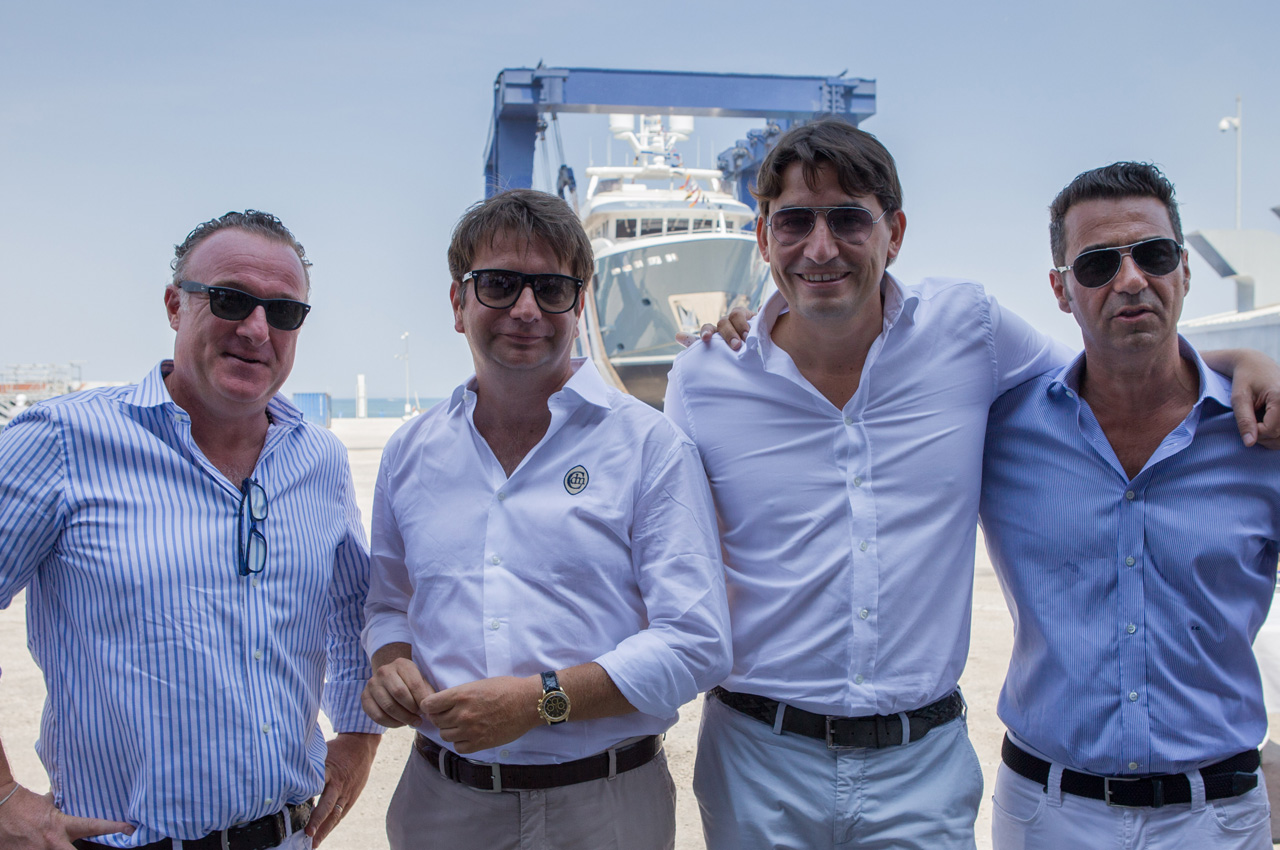 A TEAM WHERE KEY BONDING FACTORS ARE PASSION AND RESPECT
Gabriele Virgili - President
CANTIERE DELLE MARCHE,
ANCONA, 15 JULY 2015
Gabriele, being the President of CdM you must be very excited and proud of having launched the biggest Darwin Class and first of a series of 100'+ vessels today! For sure I am thrilled and excited today. But to tell you the truth, it is more about this special project itself than the dimension of the yacht. Yes, it is the first of four 100'+ we are building and this marks a very clear milestone on our path, but this is not the only thing which makes it special. It is more about the special environment which it has been created around it thanks to the owner, his family and their team of consultant. It is also about the Captain and the Chief Stewardess who have cooperated with our team seamlessly for all these months and who have taken care of the owner's interest respecting the shipyard's efforts to make its best for them. It is about the fact that hearing the (italian) words of the owner, words of deep appreciation for the work of all the people who has built his vessel, has really touched everybody's heart and made tears showing also in the eyes of those who are considered the toughest and dryiest blokes on earth.
This kind of bond between the yard and the owner's world is quite usual here at CdM, isn't it? Definitely. The relationships built during the construction are incredibly strong and when I see pictures coming from everywhere in the world on our smartphones showing our customers enjoying their vessels with their families, I have confirmation of this. They want to share with us what our yachts are giving them: relaxed, safe and hasslefree holidays in the most beautiful areas of the sea! This is what makes this difficult job the best!
With all these 100' + on order and more to come as we heard through the grape vine, is CdM planning to increase more and more the size of its production instead of sticking to max 145' as always declared? We very often repeat our mantra: we want to become better and better and not bigger and bigger. This applies also to the size of our yachts. We are not interested in going over the 145' mark. But we want to become the best in the 85' to 145' segment, for sure! I can tell you a story about this: one of our clients who wants to upgrade to a bigger Darwin has asked to Vasco Buonpensiere, our Sales Director, to start working on a 50 mt platform for his next yacht. Vasco answered to him that he was sorry to lose him as a client as CdM is not going to build a yacht of that length. The answer was shocking: the client said that he would not go anywhere else, therefore he would build a (quite beamy...) 145' with us.
2015 is being an incredibly succesful year for CdM while competition is heavily suffering when not shutting down for lack of orders: what is your secret? How you have managed to start a shipyard in the worst period of the worldwide economy and be so succesful? If I tell you, I have to kill you immediately after! Beside any joke, and without disclosing any sensible information... I sincerely think that the real keys are: answering to a very specific and verified demand, approaching the market with humbleness and transparency, creating a team where key bonding factors are passion and respect. The same passion which leads yacht owners to purchase a new yacht, and the same respect we give to them and to each and every euro he gives us to build it.
YOU MAY LIKE
THESE ARTICLES
link to article
UPTIGHT: DESIGNED
FOR OFFSHORE FISHING
Simon MIlovanovic Varvaro - Senior Project Manager