Acala's well-balanced profile with a gently raked bow and compact superstructure captures the very soul of an explorer vessel combining it with the elegance of a luxury yacht that will stand the test of time.
A pure custom yacht, Acala takes full advantage of CDM's experience and its approach to explorer yacht building. Her project showcases the collaborative brilliance of Horacio Bozzo, who designed her exquisite exterior lines, and Simon Hamui, the mastermind behind her captivating interior design. Acala has been commissioned by an experienced yachtsman who, over the years, owned yachts built by shipyards such as Feadship, Lürssen, Blohm and Voss. He is a repeat client for CDM, a yard which gained his full confidence having enjoyed the feel of comfort and safety of his previous Acala, a Darwin 102, cruising in the Med but also sailing the expanses of the Pacific Ocean, the Atlantic and reaching the wild beauty of remote destinations and the best diving spots in the world.
EXTERIOR DESIGN
Her profile, with a gently raked bow and compact superstructure, captures the very soul of an explorer vessel combining it with the elegance of a luxury yacht that will stand the test of time. Large windows on the Main deck whose mullions seem not to join the superstructure that are undoubtedly Acala profile's signature features. All shapes, volumes and lines compose a harmonious geometry while her roomy body encompasses luxury social areas and very large and comfortable crew quarters, as requested by the Owner whose plans include long term cruising to reach the farthest corners of the world. Considering the generous beam (8.6 metres) and all deck heights being a minimum of 2.2 metres, we can safely say that her designer, Horacio Bozzo, has created an admirably balanced exterior profile.
INTERIOR DESIGN & LAYOUT
The interior design of Acala crafted by Mexican architect Simon Hamui, embodies a perfect blend of luxury and relaxation. It effortlessly allows guests to feel comfortable in casual beach attire or elegantly dressed for a formal dinner, providing a versatile ambiance for all occasions.
Acala, with her nicely and thoughtfully organized interior layout, accommodates twelve guests in six suites, ensuring both social and private spaces are seamlessly distributed across thre decks, plus a large and highly livable Sun deck. Wood has been extensively utilized throughout the yacht, creating a warm and inviting atmosphere. Whether it's in the flooring, paneling, or furniture, the use of wood enhances the aesthetic appeal and creates a sense of timeless beauty. Additionally, the choice of wood contributes to a cozy and natural ambiance, enhancing the overall comfort and luxury of the yacht's interior spaces. Among the essences used on board, textured, anti-skid smoked ash, oil finish flooring provides a pleasant feel walking barefoot.
When it comes to the furnishing, Simon Hamui has curated a combination of bespoke elements and selected pieces from renowned Italian manufacturers.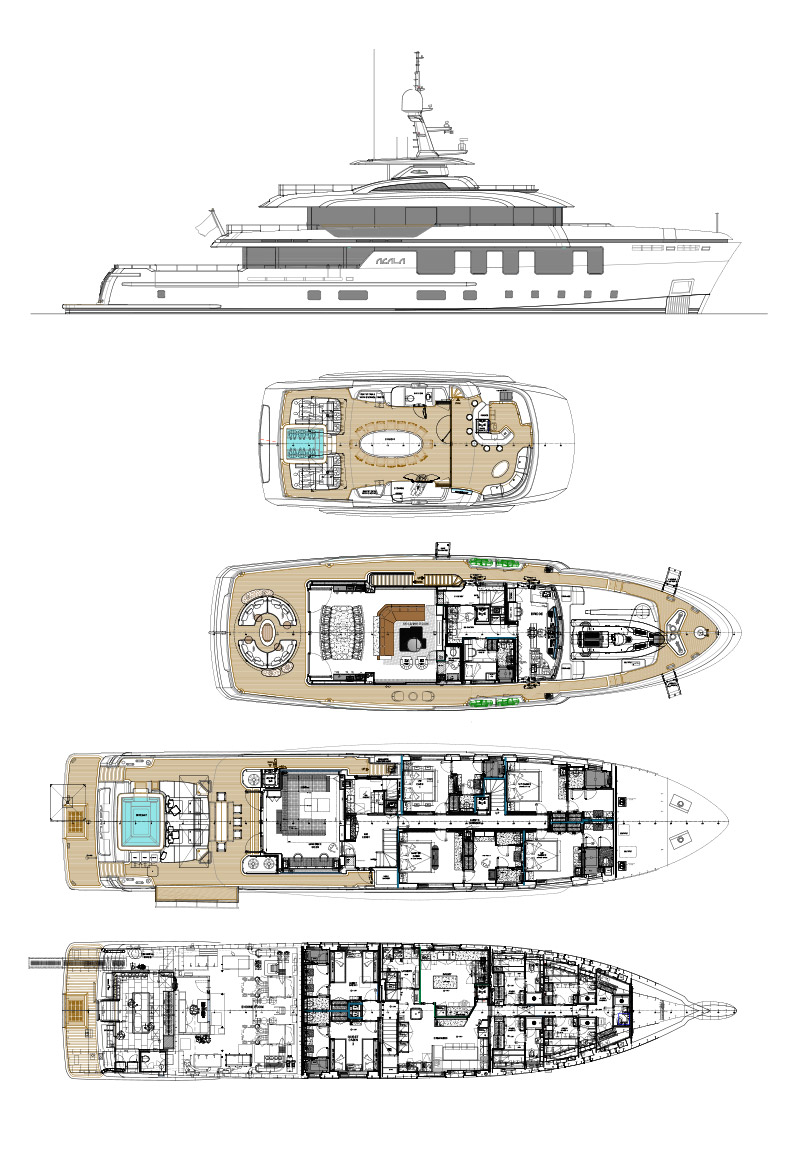 Main deck
On the main deck, a lobby with an adjoining pantry serves as a connecting space between the intimate saloon and the guest private quarters, creating a seamless transition within the living areas.
The full beam Main deck, from amidship forward is dedicated to guests and Owners' night quarters. Three large Vip and extremely comfortable Owner suite to starboard side are flooded with natural light thanks to large windows that offer splendid panoramic views.
Uncommon for a medium-sized yacht, Acala's unique layout was specifically requested by the Owner, recognizing the importance of providing comfortable and well-lit hideaways for relaxation and privacy during long journeys.
On the Main deck, a departure from the conventional large saloon is embraced, featuring a convenient family/TV room with a desk for video editing to starboard and cosy sofas to port. The Upper Deck boasts a large panoramic sky lounge with a dining area. When the large glass doors are fully open and folded sideways, the saloon merge with the outdoors, creating a unique environment.
Acala's owners are skilled and avid divers, explorers, photographers and video makers (the lazarette hosts a full equipment for professional diving). Having traveled the world and explored remote destinations and exceptional diving spots with their previous yachts, they are determined to continue their adventurous journey with Acala. With a desire to reminisce and share their cherished experiences with loved ones, they have thoughtfully incorporated in the saloon a dedicated post-production and editing area for photos and videos. Once processed, these captivating visuals can be enjoyed on the large, high-resolution TV screen, all while comfortably seated on the C-shaped sofa.
Upper deck
The 'main' saloon is actually on the Upper deck. It seamless integrates a dining area astern and a comfortable lounging area forward. It opens onto a cozy outdoor lounging area astern and, to starboard, onto a large passageway that can be easily used as a panoramic and well protected terrace. Moving forward we enter the Captain's domain: a properly equipped wheelhouse and the Captain's cabin.
Lower deck
In addition to the night accommodation on the main deck, the lower deck features two spacious twin cabins with pullman beds, providing a welcoming space for the youngsters and their friends. The crew quarters and service areas on the Lower deck are meticulously designed to be both functional and well-appointed, fulfilling the specific requirements set by the Owner. Occupying a significant portion of the Lower deck's forward section, this area is dedicated to providing the crew with comfortable and efficient living quarters, ensuring they can attend to their duties with ease while maintaining a high level of service.
Outdoor areas
Acala offers expansive outdoor spaces spread across three decks. The Main deck boasts a generously sized cockpit that encompasses dining/lounging area, a swimming pool and ample spaces for relaxation. Moving up to the Upper deck, guests will find a captivating outdoor conversation area characterized by semicircular sofas. Finally the Sun deck, seamlessly integrated into the vessel's profile, serves as a social hub for Acala's guests. It features al fresco dining, a bar, a vast sunbathing area with swimming pool. Large glass doors protect the centrally positioned dining area providing the opportunity to enjoy meals while underway. A dumbwaiter connects the galley located on the Lower deck to all deck, Sun deck included, to convey food and drinks and ease the work of crew.
AN OVERVIEW ON TECHNICAL ASPECTS
Acala has a full displacement naval architecture by Sergio Cutolo/Hydro Tec offering large volume (440GT) and the smoothest of travel even in rough seas ensuring excellent comfort and total safety. Engineering has been developed by the yard technical department in collaboration with Hydro Tec. Needless to add that she, like all explorer yachts built by Cantiere delle Marche, features a thick and robust steel hull and light aluminium superstructure.
The engine room shows the yard's expertise, with ample space to access machinery, a control room (not standard on a yacht this size) and access down to a tunnel – of standing height – that runs the length of the hull, letting crew get easily to stabilisers, piping and storages. With a total length of 43,10 metres, a beam of 8.60m, thanks to hull geometry, 62 400-litre fuel tanks, and the extremely frugal consumption of her twin Caterpillare C32 Acert engines 746kW each, Acala has a top speed of 15 knots and an expedition-worthy range of 8,000 nautical miles at 9.5 knots.
Stability both underway and act anchor is granted by two pairs of electrical driven stabilizers. The yacht's engine room, as all engine rooms built by CDM, is a showpiece that stands out for its cleanliness and functionality with all the yacht's systems and machineries set up to accommodate easy maintenance. Acala is a pure breed explorer therefore she needs a high level of independence. The engine room is one of the sources of that independence as its redundant equipment allow to sail far and wide and to reach remote areas of the globe where it is impossible to access any sort of assistance. An expansive lazarette provides a very large storage area needed for many cruising necessities, water toys, diving equipment, etc. A 9m tender is stored on the Upper deck forward while a 14.5m tender is frequently towed.
YOU MAY LIKE
THESE ARTICLES
link to article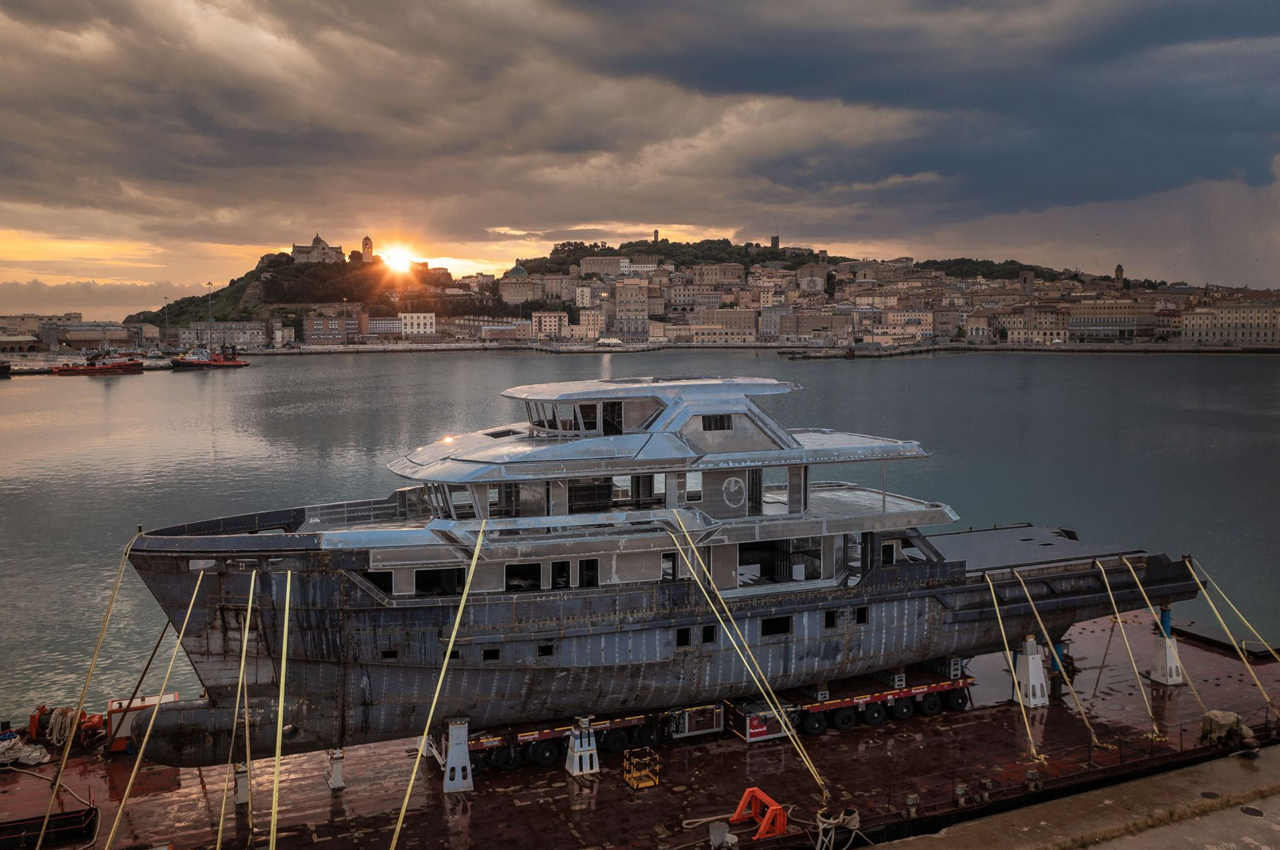 THE FLEXPLORER LINE
Ennio Cecchini - Co-Founder & President
Sergio Cutolo - Naval Architect & Exterior Designer
link to article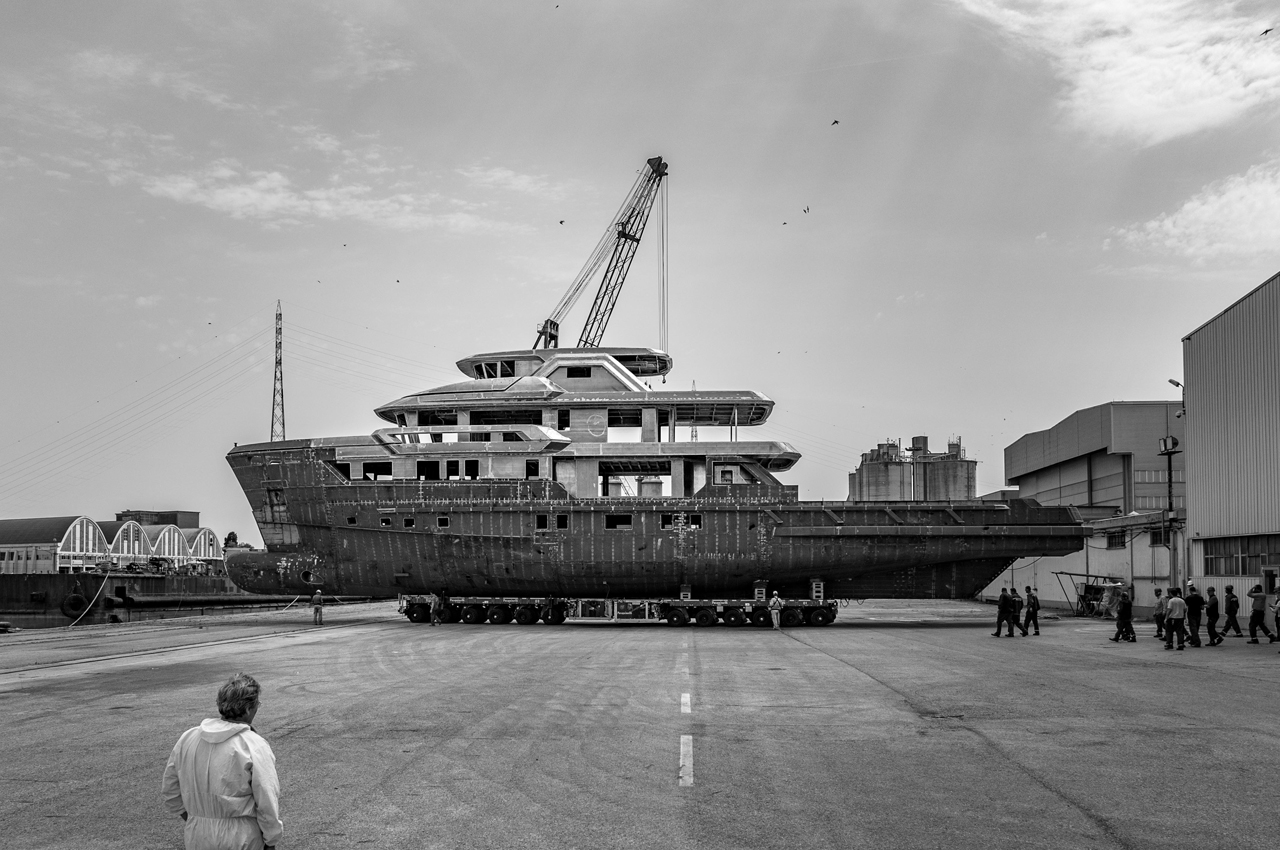 A FOCUS ON TECHNICAL
AND CONSTRUCTION ASPECTS
Sergio Cutolo - Naval Architect & Exterior Designer