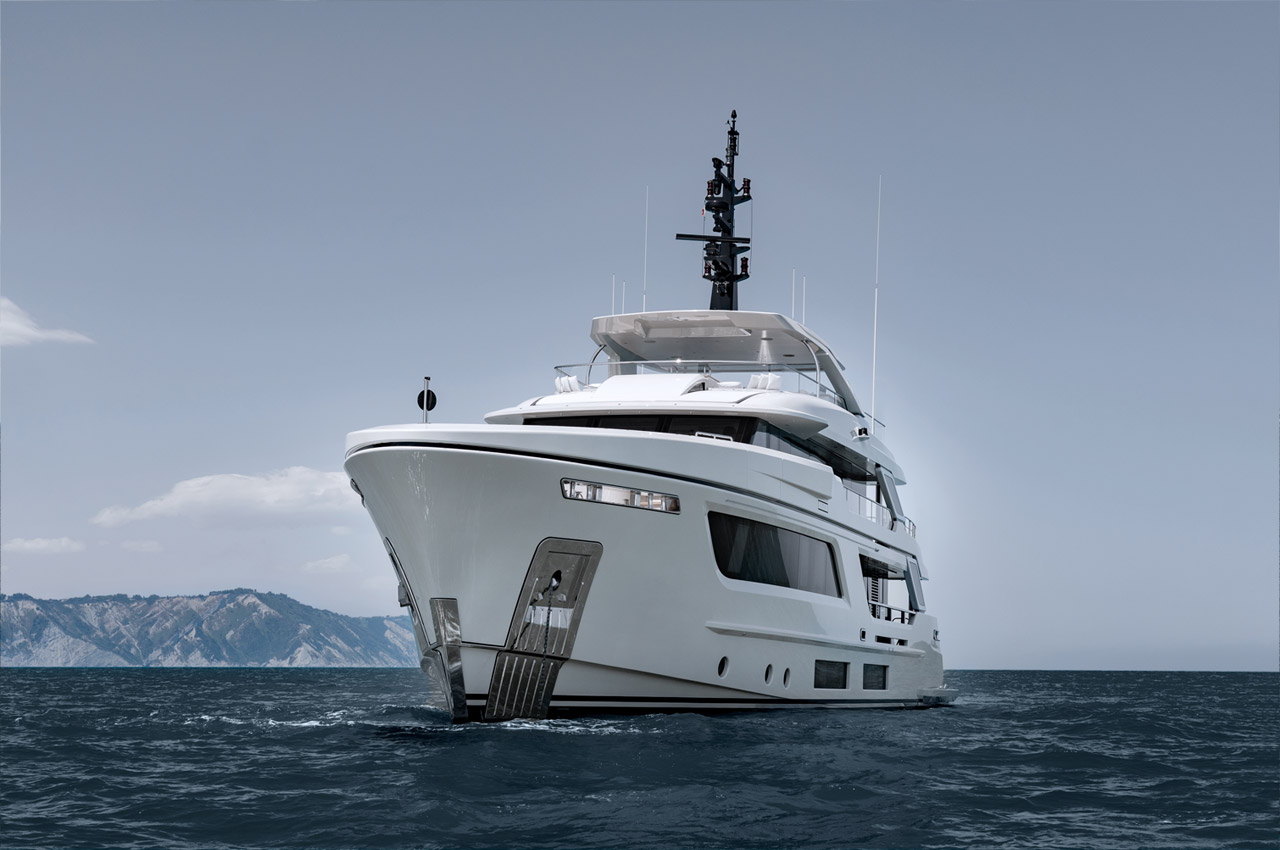 AN OVERVIEW
ON RJ 115
STELLAMAR
EVERY MODEL WITHIN THE RJ LINE EXUDES A ROBUST PERSONALITY CHARACTERIZED BY FLAWLESS HARMONIZED VOLUMES AND IMPECCABLY BALANCED PROPORTIONS THAT RESONATE THROUGHOUT THE DESIGN. THE SMALLEST IN THE RANGE, THE RJ 115 IS NO EXCEPTION AND SHE ENCOMPASSES ALL DESIGN FEATURES AND SOPHISTICATED ELEMENTS OF THE LINE IT BELONGS TO, INCLUDING WHAT WE REFER TO AS THE "INVISIBLE CRANE".
In crafting this project, Cantiere delle Marche pays homage to the most exquisite tradition of yacht design while infusing it with innovative solutions that beckon us into the future of explorer yachting. The RJ 115 boasts a profile that is both dynamic and tense, yet it embraces sinuous lines that bestow an unparalleled elegance upon its exterior design. Through this endeavour, Francesco Paszkowski brilliantly demonstrates that medium-sized dimensions do not hinder creativity, rather they amplify it. Within a mere 35 metres, this gifted Italian designer concentrates spaces and luxury amenities, evoking the essence of a mega-yacht. Notably, Stellamar stands as a true explorer yacht.
LAYOUT
The layout is functional and encompasses four lower deck suites, with the master stateroom situated forward on the main deck. With the capacity to accommodate ten guests (+2) tended by a crew of seven, the layout is ingeniously designed to ensure seamless circulation and functional connection between the decks. All exterior staircases are thoughtfully positioned on the port side, accompanied by spacious walkways.
The outdoor areas are a focal point, featuring generous lounging and dining spaces across all decks. Even when the desire for Sun and wind wanes, the Main and Upper salons welcome guests with a sense of continuity with the outdoors. Vast windows illuminate all environments and provide a visual link to the boundless sea beyond.
Descending the Lower deck two VIP and two twin cabins are bright and airy, courtesy of expansive windows. On this deck the crew quarters comfortably house six members, while the Captain's quarter reside on the Upper deck adjacent to the wheelhouse.
INTERIOR DESIGN
The interior layout was tailored to his family's specific needs as well her decoration that is simple yet sophisticated and based on natural tones, light wood veneers and organic forms for an ambience that is soberly tasteful but also informal and welcoming. Textures of both wood and fabrics also play a central role by echoing materials found in nature. The interior decoration of Stellamar, in its entirety, work in harmony creating warm and welcoming environments. An extensive use of bright natural oak for flooring and ceilings and cream leather wall panelling gives the interior a soothing atmosphere throughout the yacht, in both social and private areas. Paszkowski designed all fixed furniture and chose, together with the Owners, most of the loose furniture and accessories by renowned manufacturers such as the Arpège Meridienne sofas by Christian Liaigre for the lounging area in the Main Salon, the Poliform Saint Germain sofa in the Skylounge, armchairs Archibald by Poltrona Frau, Cassina Hola chairs in the dining area whose table boasts a beautiful Breccia Aurora marble top. All bathrooms share the same bright and relaxing mood thanks to matt white statuary marble coupled to natural oak. The Owner bathroom features double basins carved in marble, a beautiful Villeroy & Boch bath tub, a shower stall equipped with hammam and, to starboard side, there is also an infra-red sauna.
TECHNICAL FEATURES & PERFORMANCES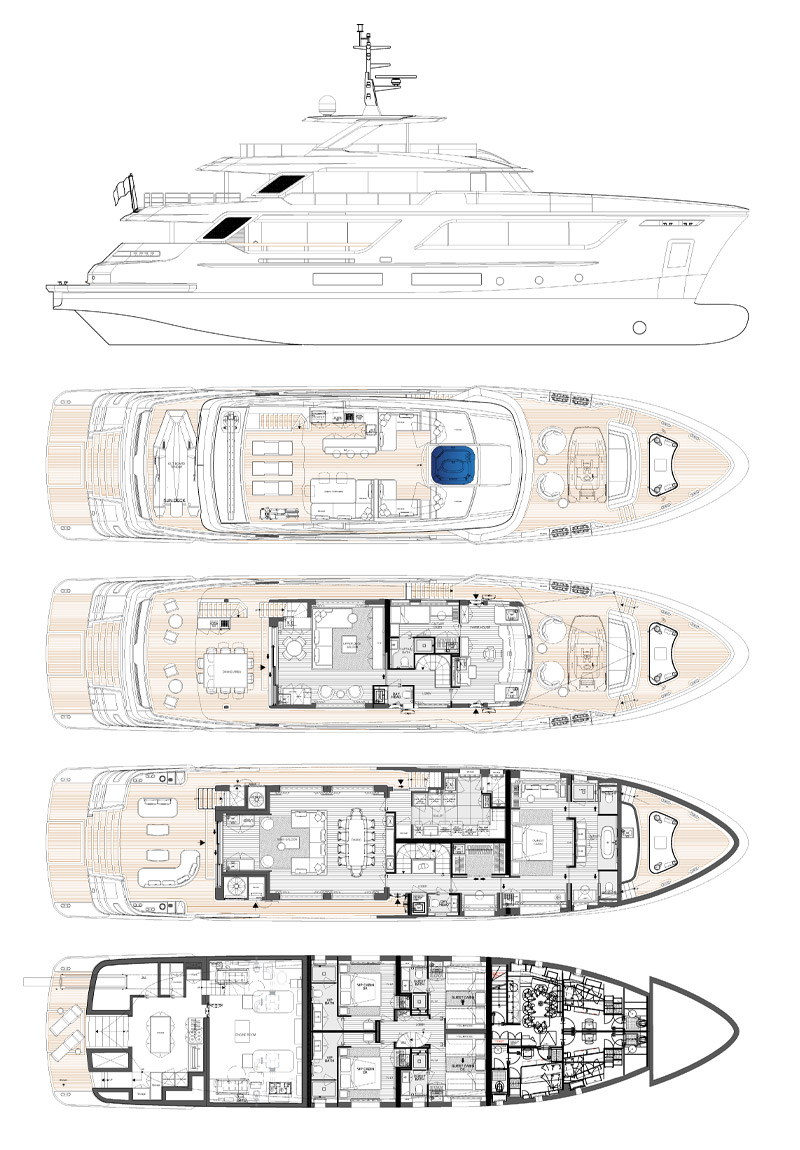 The RJ 115 Stellamar stands as a full displacement explorer yacht with steel hull and an aluminium superstructure. With a total length of 35 metres and a beam of 7.50 metres, she has a Gross Tonnage of 299GT and a displacement of 283t. Stability is granted by a purposefully designed hull geometry and enhanced by electric-driven stabilizers. Powered by twin heavy-duty Caterpillar C18 Acert engines, each generating 533kW, she meets the rigorous standards of US EPA Tier 3 Emission and IMO Tier II Emission Standards. Achieving 13.5 knots of maximum speed and with a range of above 5500 nautical miles when maintaining the economical speed of 9 knots, her capabilities and performances are as remarkable as her design.
Like all the models in the RJ line, Stellamar features an 'invisible' crane to handle a tender and other water-toys. The powerful crane is hidden in a compartment encompassed into the Sun deck overhang and it disappears into the structure when not in use.
"WE PURSUE INNOVATION ACROSS ALL NEW PROJECTS AND WE ARE DEDICATED TO ENHANCING BOTH THE TECHNICAL EXCELLENCE AND AESTHETIC REFINEMENT OF CDM'S SIGNATURE EXPLORER YACHTS. OUR GOAL IS TO OFFER THE BEST TO OUR DISCERNING CLIENTELE," SAYS VASCO BUONPENSIERE.
"AN EXAMPLE OF OUR COMMITMENT IS EVIDENT IN THE RJ 115 STELLAMAR, AN EXPLORER YACHT CHARACTERIZED BY THE WORK OF FRANCESCO PASZKOWSKI WHO DEVELOPED BOTH HER EXTERIOR AND INTERIOR DESIGN," VASCO EMPHASIZES. "MONTHS OF METICULOUS EFFORT ALONGSIDE FRANCESCO HAVE BEEN INVESTED IN SHAPING EVERY ASPECT OF THIS PROJECT DOWN TO THE SMALLEST DETAIL. THIS EXACTING APPROACH EXTENDS TO OUR TECHNICAL TEAM, WHOSE WEALTH OF EXPERIENCE IN EXPLORER YACHTS HAS ENDOWED STELLAMAR WITH UNPARALLELED EQUIPMENT AND CAPABILITIES."
YOU MAY LIKE
THESE ARTICLES