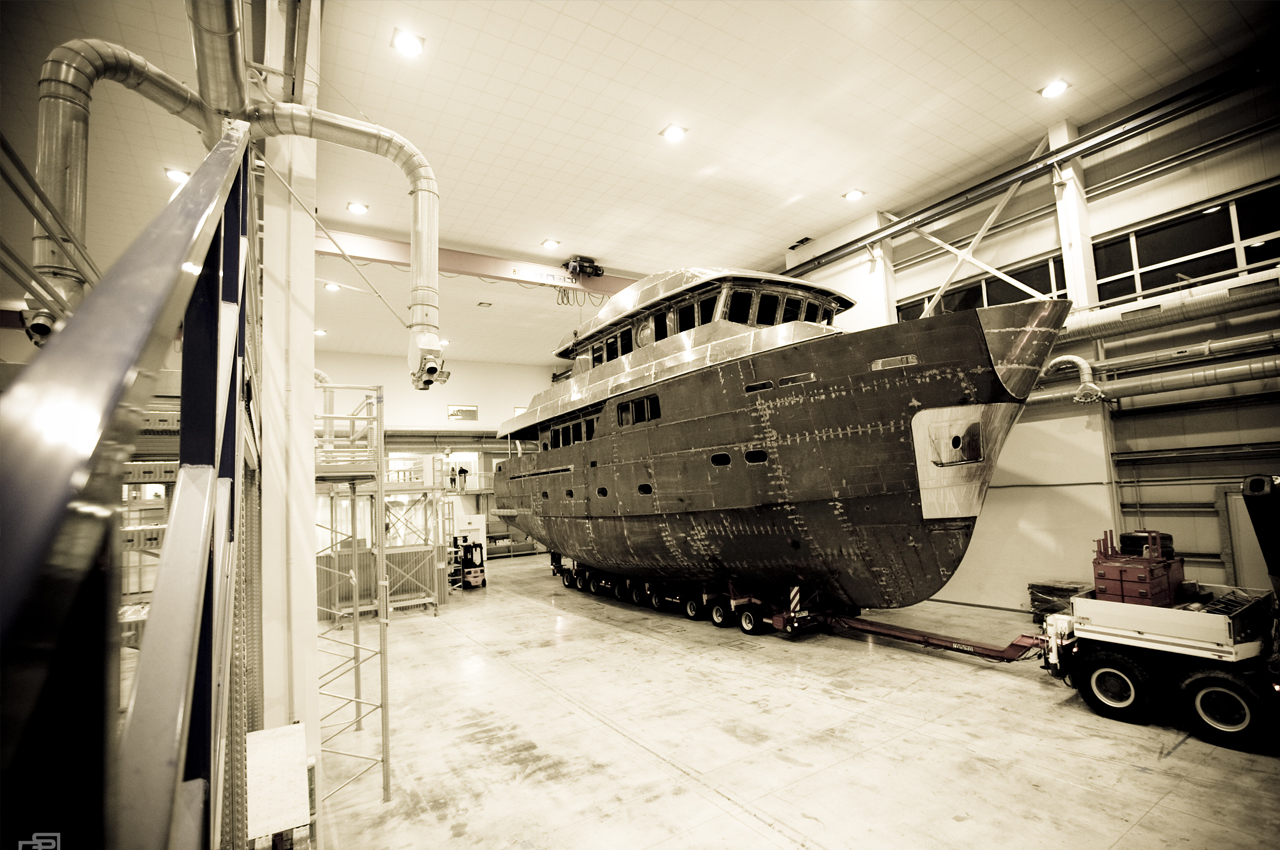 CDM IS
RUNNING
Vasco Buonpensiere - Sales and Marketing Director
CANTIERE DELLE MARCHE,
ANCONA, 05 MAY2012
Let me first thank all of you who have written to us expressing their thoughts about the first issue, giving us precious suggestions and who have supported us with their compliments and encouragement. It really seems that the spirit of the Buletin has been completely shared by its readers and this is another positive note on the brilliant path on which CdM is running.
The last two months have been full of activities at the yard: in about 60 days we had 13 visits from prospect clients, we have signed three letters of intent (Nauta Air 105, Nauta Air 80 modified to 86, Nauta Air 96), and we are now working to transform them in contracts within the next 3 weeks. On top of this, we have extensively travelled worldwide in order to meet prospect clients and strengthen our relationship with brokers and distributors, without whom it would be so difficult for us to cover all the relevant territories. Thank you guys! The most important event of these last two months has definitely been the launch of our Darwin 86 M/Y Percheron. We celebrated the event privately, dedicating such an important moment to all the workforce who have contributed to realize such a quality boat. We are really looking forward to presenting this vessel at Cannes, Fort Lauderdale, Miami and Palm Beach Boat Shows and we are sure that all of you will appreciate the high standards of any single detail of this Yacht!
If the last two months have been quite hectic, the two months in front of us are going to be probably even more intense: we will deliver to the owners Darwin 86/02 and 82/05 will be launched and delivered immediately after, Darwin 96/04 has entered the outfit shed after having completed hull and superstructures, the outfitting of the interiors of Darwin 8603 is starting too, and we will also begin building two of the three boats for delivery 2014.Seen the worldwide economic situation and particularly the state of health of our industry, we can say that CdM is safely sailing through the storm: exactly as it happens with its vessels on the Oceans!
Let me just stress here one very important forecoming event for us: the delivery of the Darwin 86/02 to her owner will concide with the first donation from CDM to the Charles Darwin Foundation. As you know we are great supporters of this Foundation and we are happy to know that our donations will contribute to help them in taking care of the Galapagos Islands! It is just the first of a long series: we have committed to donate them 10.000 USD for every delivery in the future, and we are very proud of it. Please, go and visit their website www.darwinfoundation.org and realize how precious they are for the well being of that Natural Paradise.
I know I am writing to Seamen, therefore I don't want to take too much of your time reading my words: please go and read the rest of the Buletin (which is much more interesting) so you have more time left to go out and enjoy the Oceans.
YOU MAY LIKE
THESE ARTICLES