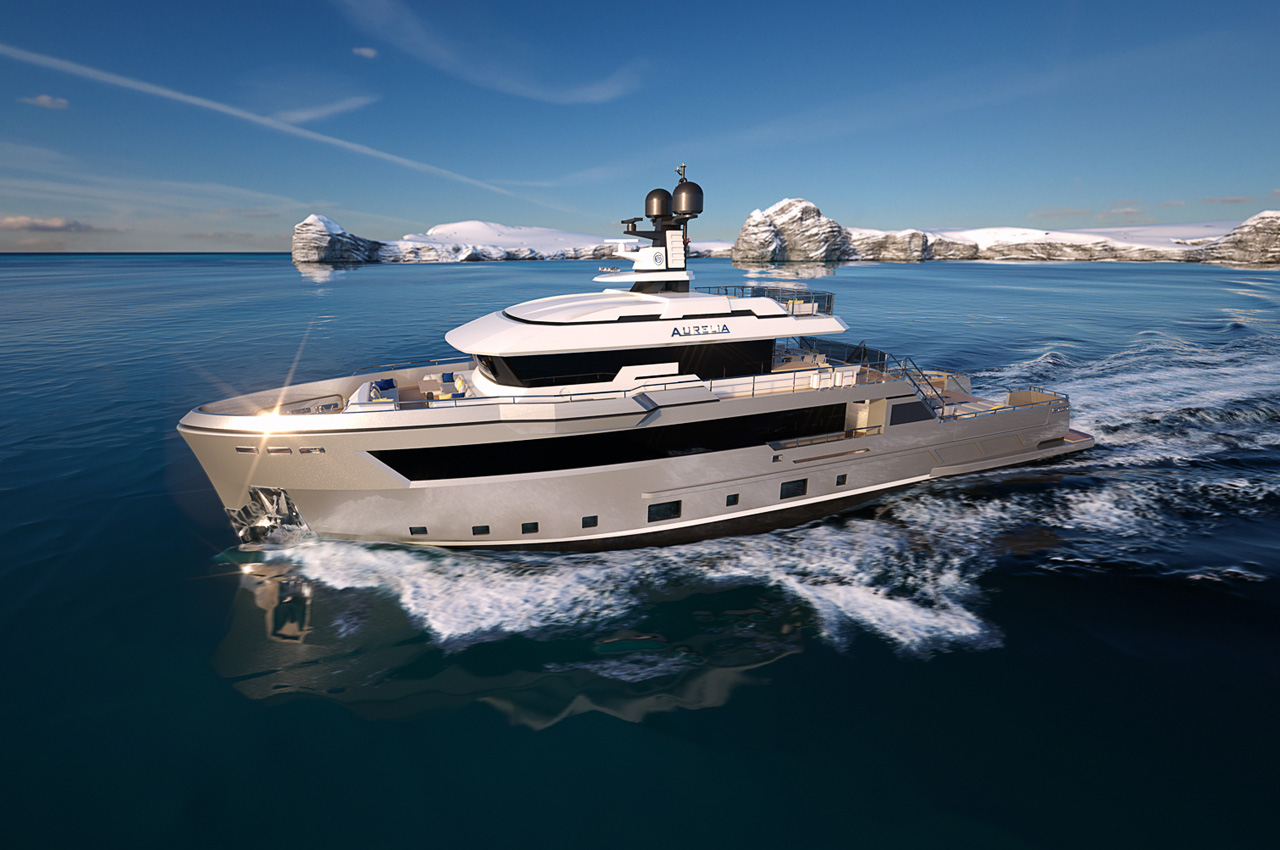 FLEXPLORER:
THE TECHNICAL SOUL
Ennio Cecchini - CEO
We are sure she will be
a game-changer!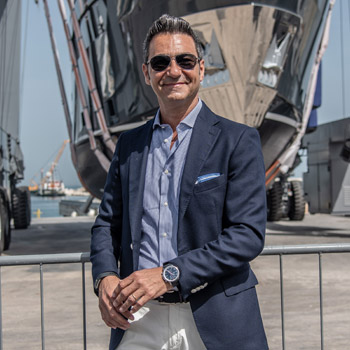 Ennio Cecchini, Cantiere delle Marche's CEO, talks about the yard's new projects, namely the amazing Flexplorer.
What's in store for Cantiere delle Marche's future? Cantiere delle Marche is moving forward with new lines and one-off projects among which the Flexplorer line represents indeed a highlight as well as a turning point. I am sure this model will be a feather in the cap for Cantiere delle Marche!
What values and characteristics define better an explorer built by Cantiere delle Marche nowadays? The embrace of both design and technological advancements and deeply held commitment to move forward define what a Cantiere delle Marche's explorer vessel is today. The Flexplorer is a testament to these values: a new class of yacht that fuses superyacht standards of space and design with rugged, go-anywhere capabilities – all in a more flexible package. It is indicative of a core strength of Cantiere delle Marche, which introduces innovative models and technologies into the market while being able to preserve its vision and mission: building strong and reliable explorer vessels.
Would you please point out concepts and features that make Flexplorer stand out from the crowd? Among Flexplorer's genuinely unique aspects it is worth mentioning the fold-down bulwarks that enlarge the deck space astern creating a huge terrace and an A-frame crane that is perfectly encompassed in the deck's flooring. The A-frame crane is a remarkable piece of engineering purposely developed by Cantiere delle Marche's to provide the yacht with a powerful crane to launch a haul a tender of up to 2.5t without interfering with full use of deck space. When the crane is not is use, it literally disappears into the deck's flooring becoming a part of it. The smooth teak surface, once the tender is in the water, turns into a large and comfortable area for all guests enjoy relax under the sun: 115 square metres of lounging and sunbathing area equipped with sofas, tables, sunbeds, shaded – when and where necessary - by stylish beach umbrellas. It goes without saying that the A-frame crane also allows much safer loading and offloading operations as well as it eliminates any inclining issue.
Another outstanding feature are the fold-down bulwarks on both sides of the cockpit. When folded down they sit flush with the teak flooring and extend out the cockpit surface offering uninterrupted views. It is not just a matter of square metres added to an already large area, it is the sense of being in full contact with the sea and the surrounding landscape that really adds and offers an ineffable sense of freedom.
The Flexplorer is meant to provide fun and relaxation to owners and guests during long passages. Are there specific features designed to meet this goal? Yes, the Flexplorer is meant to sail far and wide so we have dedicated a lot of attention to storage in general. Lots of storage compartments on all decks allow for long passages without stopping to resupply. To allow the highest level of fruition and enjoyment, a really ingenious, smart toy storage has been placed on the main deck port side: it is a stainless-steel drainable storage space with a rack for boards that electro hydraulically pops up on the deck so the boards are at hand when needed and disappear below deck when not in use. We set up different slots for a carbon fiber removable 500kg crane to offer different spots for toys and tenders hauling and launching, and there is also a very big lazzarette to store all sort of diving equipment. The first unit of the new Flexplorer line also has a proper gym with plenty of natural light thanks to the skylights installed into the deck.
Yet, the Flexplorer is not just a large flexible toy to entertain owners and guests, she is a strong a reliable vessel too... The Flexplorer is a stunning piece of technology! Wrapped in an elegant design by Sergio Cutolo/Hydro Tec, she encompasses Cantiere delle Marche's usual superlative levels in both construction and equipment. Her eye-catching superstructure, almost vertical bow, huge deck are not exercises in style as they make her a perfect ocean-going vessel designed to face all sort of weather conditions in total safety and comfort.
With a length over all of 39.37 metres and a beam of 8.50 metres, guest areas are spread over four decks. With twin Caterpillar C32 delivering 746kW each, the Flexplorer will reach a top speed of 14 knots. At 8.5 knots she will have a remarkable range of around 5000 nautical miles.
Is the Flexplorer layout as original as her features and devices? Yes, she has an asymmetrical layout. The Main Deck superstructure features a full beam configuration on starboard side to make the most out of the beam while offering great views through extremely large windows. The flow of the interior layout of the Main Deck is fairly conventional with a main saloon encompassing a dining area, a galley to port and the Owner stateroom forward. The Upper Deck, hosting a panoramic saloon, has symmetrical walk arounds for both functional and aesthetics reasons. The generously sized interior hosts four large guest suites on the Lower Deck. Lots of indoor and outdoor areas on all decks provide guests with all amenities and comfort during non-stop passages to remote destinations. Despite being a medium-size yacht, the Flexplorer configuration offers plenty of privacy to Owners and guests both indoor and outdoor. The outdoor spaces are quite remarkable: in addition to the super-large cockpit there are also a stern terrace on the Upper Deck and a panoramic Sun Deck with spa-pool and sun lounges.
The construction of the first Flexplorer is well underway and is due to be delivered to her Owners in 2020. We all look forward to seeing her into the water: we are sure she will be a game-changer!
YOU MAY LIKE
THESE ARTICLES
link to article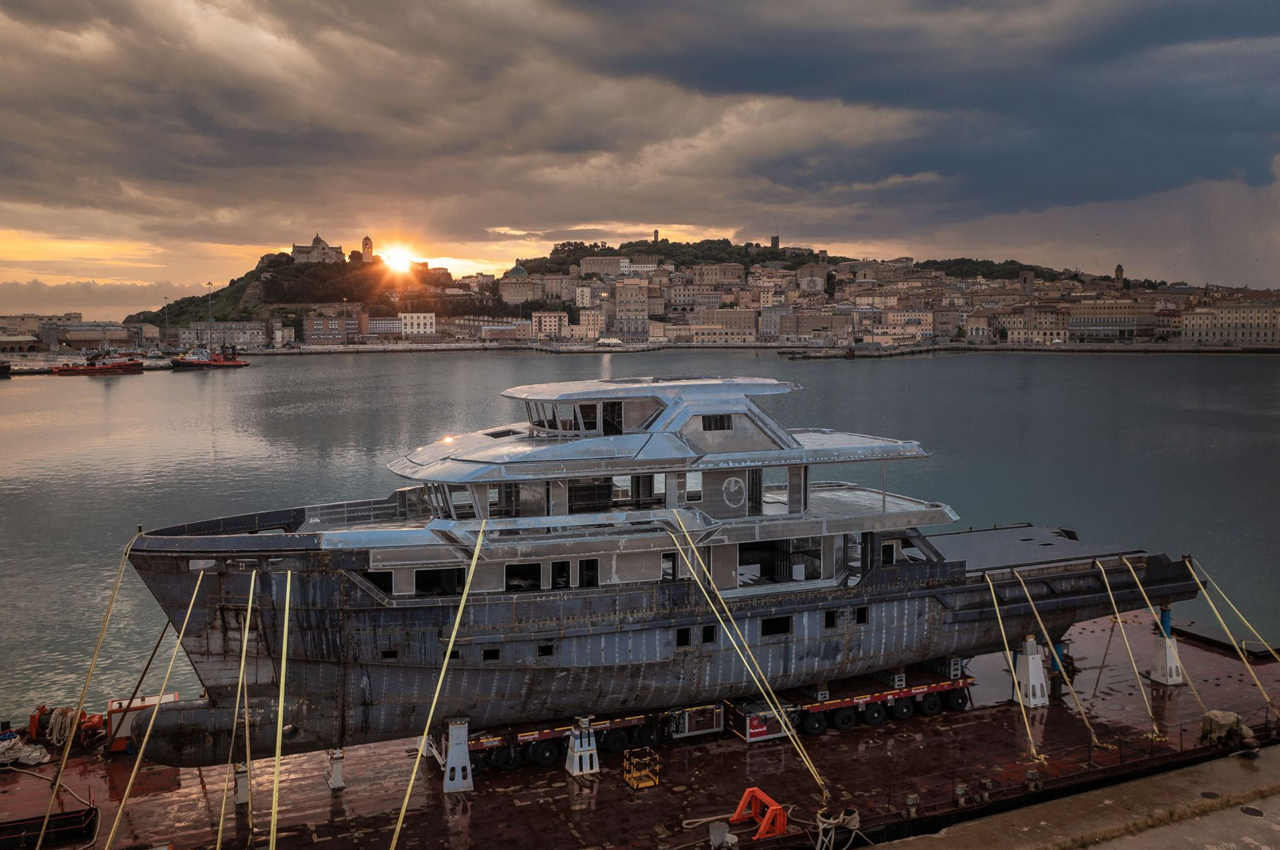 THE FLEXPLORER LINE
Ennio Cecchini - Co-Founder & President
Sergio Cutolo - Naval Architect & Exterior Designer
link to article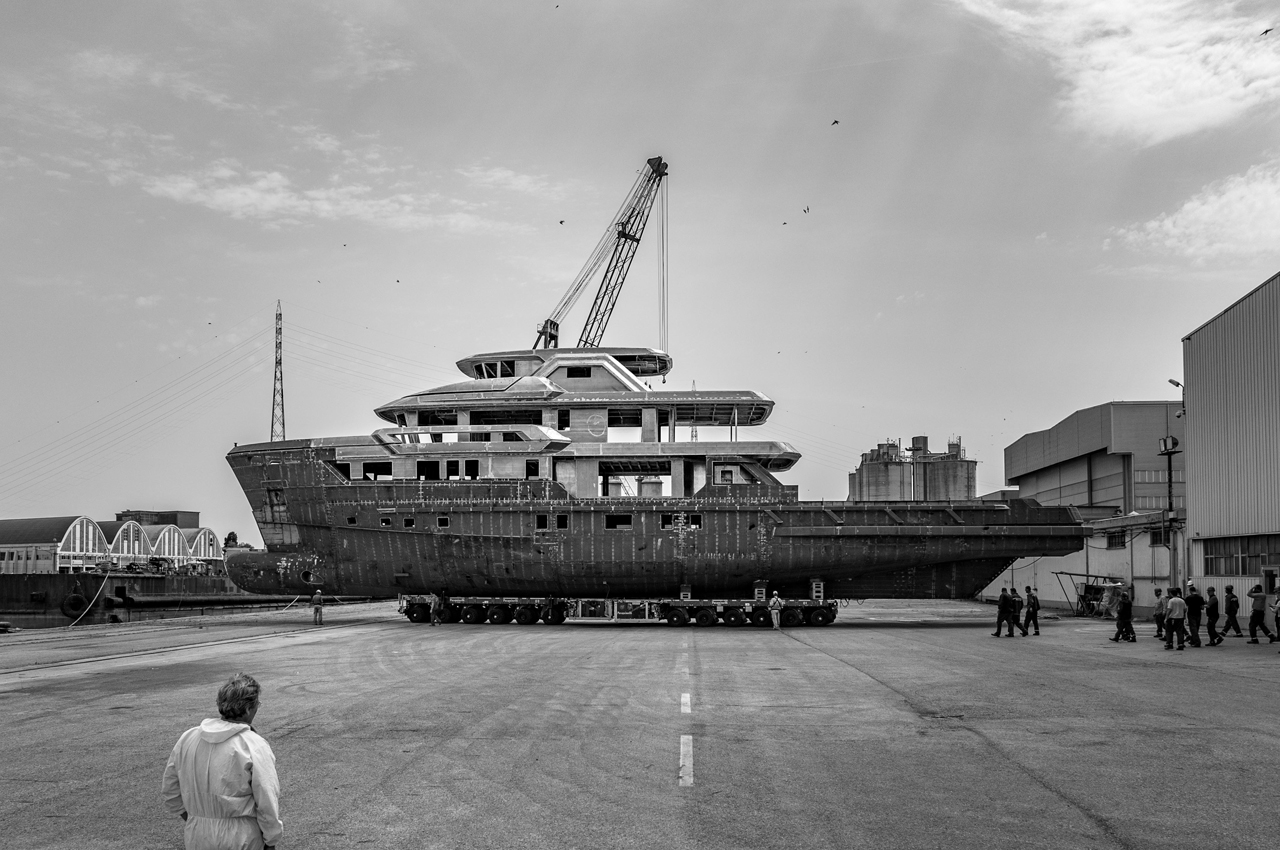 A FOCUS ON TECHNICAL
AND CONSTRUCTION ASPECTS
Sergio Cutolo - Naval Architect & Exterior Designer