I HAD NO IDEA THAT BUILDING AN EXPLORER YACHT WOULD BE SO THRILLING
Owner - M/Y Stella del Nord
Before asking you to tell us about your experience with Cantiere delle Marche during the building of "Stella del Nord", we'd like you walk us through the steps in your decision-making process that led you to consider CDM and then, to decide to have your yacht built by the Ancona-based shipbuilder. We had been doing our research on Explorer yachts for about 15 months, visiting shipyards in Italy and in Northern Europe. Then, when we were in Cannes, in September of 2013, we came across CDM for the first time and had the opportunity to see and tour the "Explorer Darwin 96" on EXPOSITION. We spent roughly 60 minutes on board and were able to have an in-depth discussion with their technical expert about all those aspects that interested us. As I, personally, have a technical background, I must say I was very enthusiastic about this first meeting. I was able to get more information in those 60 minutes than I had in all the previous 15 months' time, including visits to renowned shipbuilders. Just a few months later, we signed the contract.
In these past 18 months, how much of what you've experienced has coincided with your expectations, and what has had the most positive impact on you vis-á-vis what you had imagined? As I said, my work experience lies in the industrial sector and I realize that I am person who has an extremely technical approach to things. I have to admit that I have never had such a smooth and constructive experience on other projects, similar in terms of size and complexity. Sharing decisions, feelings, and forging interpersonal relationships over a period of 18 months is no easy task. It is perfectly normal for there to be divergences in the course of the shipbuilding process. I must say that I never had the sensation that anything was being forced on me ... on the contrary. Today, on the eve of the launch, I can say I am pleasantly surprised by all that I've received from CDM. I can affirm that our "Stella del Nord" carries within her all of the goodwill and professionalism of Cantiere Delle Marche and of all the collaborators who, for 18 months, have committed themselves to the success of the project.
CDM is a shipbuilder that has always distinguished itself through a direct and frank approach to communication, so once again, we'd like to stay true to course: after this experience, what would you change? I confess that this question puts me on the spot. I have always encountered extremely open individuals, from the first people I see as I arrive in the shipyard in the morning, to the various technical experts, to the on-board outfitter. I am always made to feel "important" at Cantiere delle Marche and I have never felt that I was lacking for anything at all. For example, since I am busy all day, I always end up calling your chairman after eight in the evening. I have never once felt that I was disturbing him, quite the opposite, I have always felt at ease, like one of the family.
Now that "Stella del Nord" is finally in her natural element and the summer season is fast approaching, it's time to make cruising plans: what do you have in mind for the summer of 2015? We expect to leave on Saturday, July 4th and make our first stop in Montenegro to refuel. Then, we'd like to sail towards Greece, continue through the Strait of Messina, so that by August we'll reach Sardinia where we'll meet up with our friends. Later, in September, the "Stella Del Nord" will be on exhibition at the boat show in Cannes. Finally, we plan to return to the Adriatic in October.
With a vessel like "Stella del Nord" it is difficult to set limits as to distances to cover and waters to explore; are there any transoceanic plans in this splendid yacht's future? Which seas make your heart beat the fastest? Our dream is to one day cross the Atlantic and go to the Caribbean where we'd like to spend the winter. Our daughter, who lives in the USA, has already "booked a room" on board. We are also thinking about circumnavigating the U.S. and Northern Canada, and are considering other routes, too, maybe in the Pacific.
And now for the most dangerous question ... if you should one day build another yacht, would you do it again with Cantiere delle Marche? If yes, why? When we began this adventure, I had no idea that building a steel sea craft would be so complicated, or so thrilling. I reached a compromise with my wife when we decided on the length [of this one]. Already, I am imagining a 110 or 115-foot "Darwin" ... but where to have it built? At Cantiere delle Marche. Definitely. Why? Because I know it will be a positive experience and, at the end of the day, I know that I will be just as satisfied as I am now.
YOU MAY LIKE
THESE ARTICLES
link to article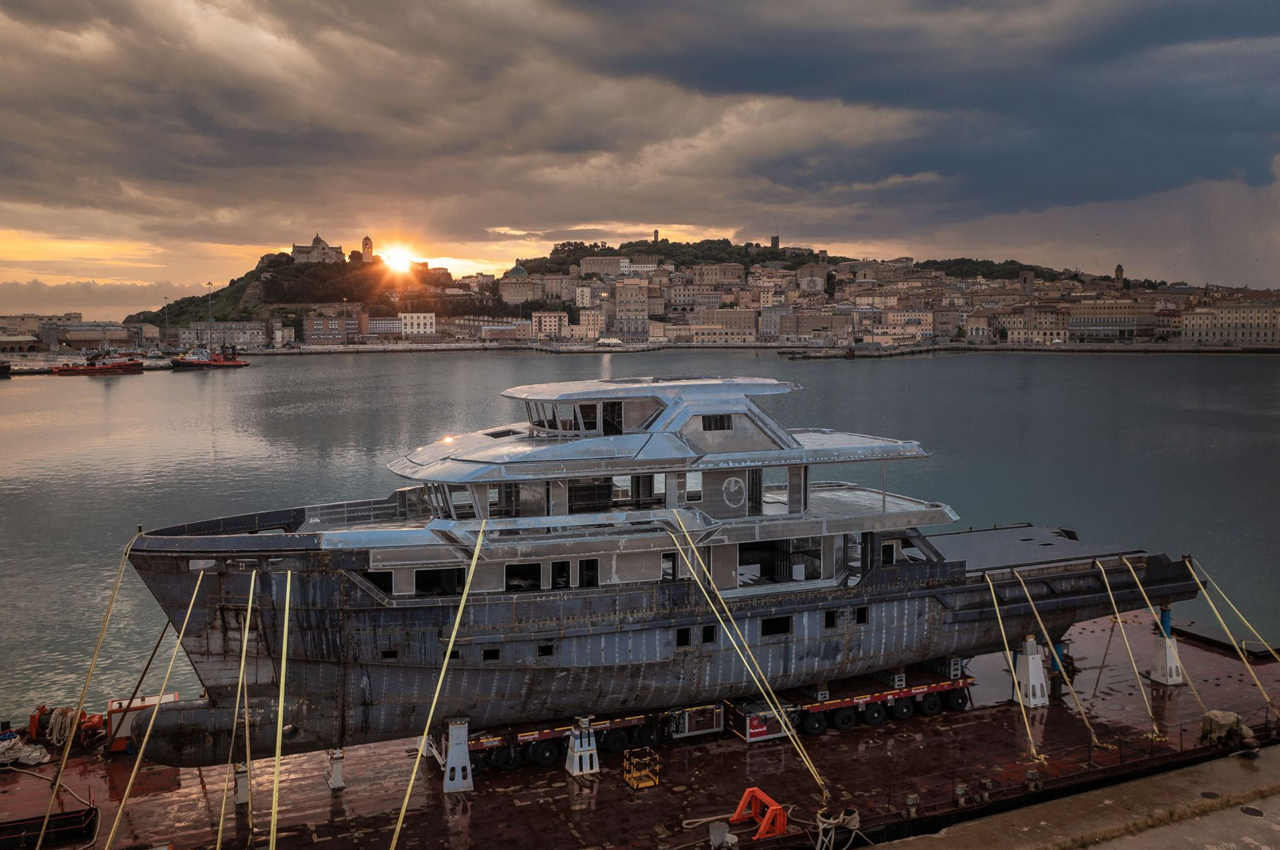 THE FLEXPLORER LINE
Ennio Cecchini - Co-Founder & President
Sergio Cutolo - Naval Architect & Exterior Designer
link to article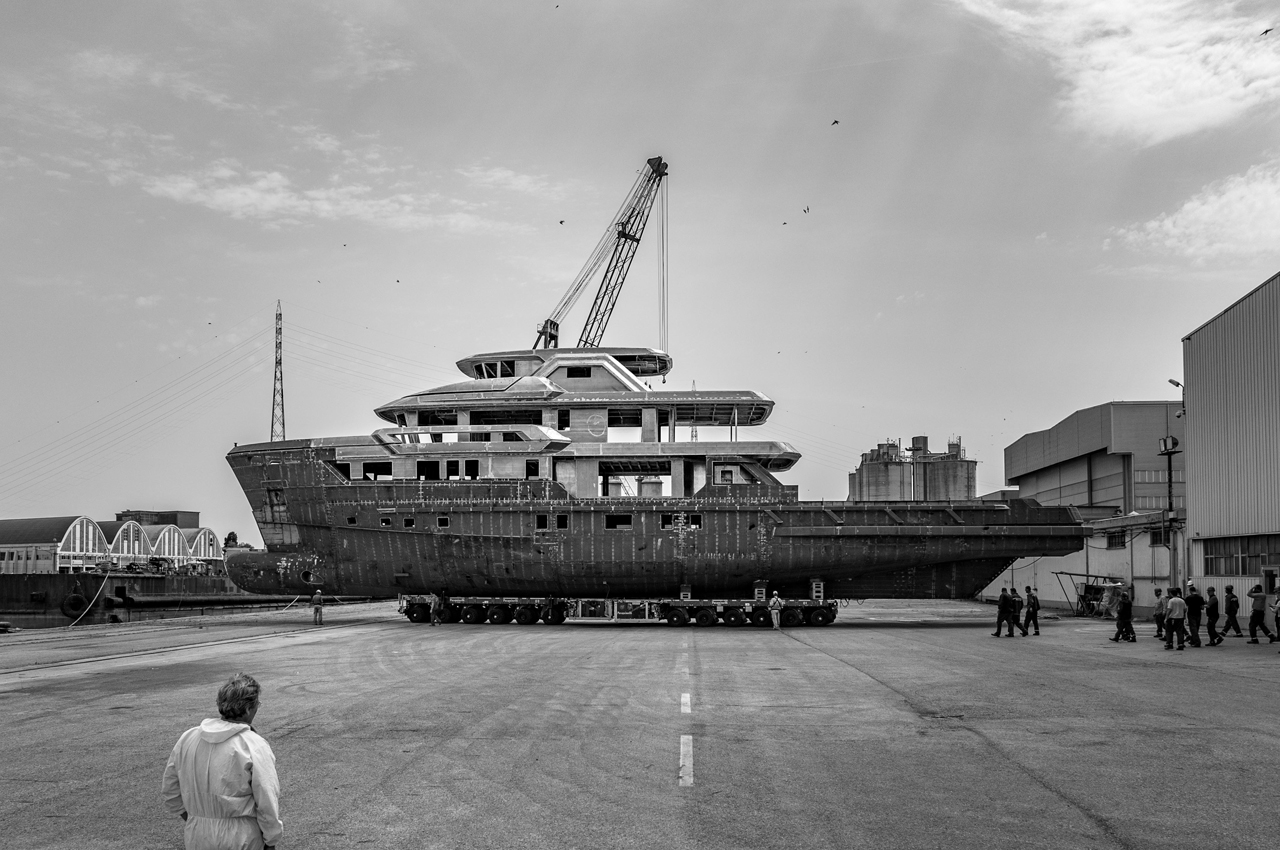 A FOCUS ON TECHNICAL
AND CONSTRUCTION ASPECTS
Sergio Cutolo - Naval Architect & Exterior Designer