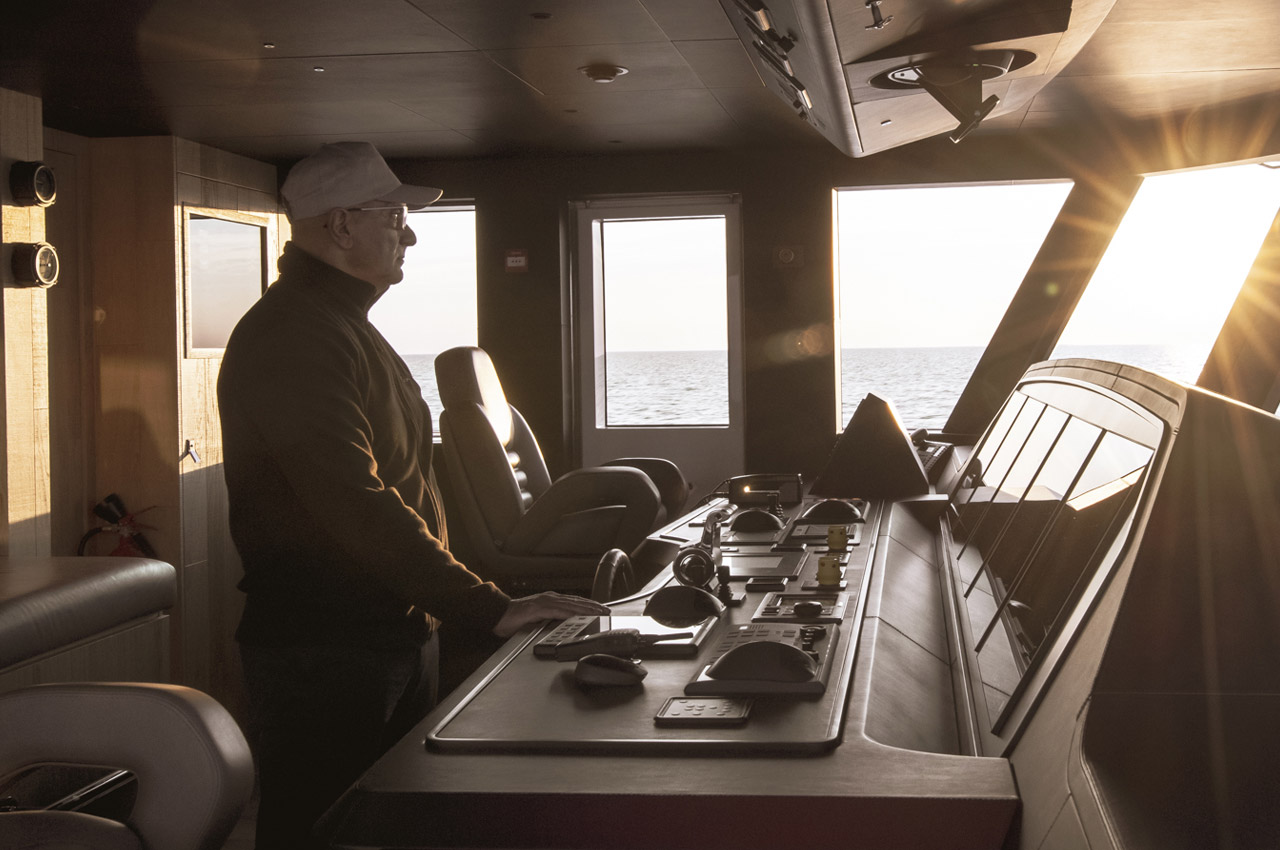 INTERVIEW TO
MARIANO DIODATI,
CAPTAIN OF AURELIA
Mariano Diodati - Captain of M/Y Aurelia
CANTIERE DELLE MARCHE,
ANCONA, 25 MAY 2021
The Flexplorer 130 Aurelia encompasses CdM's superlative levels in both construction and equipment. She is a stunning piece of technology wrapped in an elegant design by Sergio Cutolo/Hydro Tec with groundbreaking interiors by Francesco Paszkowski Design. Her eye-catching superstructure, almost vertical bow, huge aft deck, roomy interiors provide the yacht with all feature that make her a perfect ocean-going vessel designed to face all sort of weather conditions in total safety and comfort.
We met her Captain, Mariano Diodati, and asked him a few questions on the yacht.
CDM You followed the construction of Aurelia since its inception so you know all her secrets. In your opinion, what makes her stand out from the majority of the explorer vessels available on the market? Aurelia embodies all features of a pure explorer vessel, robustness, seaworthiness and comfort in all sea conditions adding to these qualities an extra dose of flexibility and functionality. She is very easy to handle and operate. If anything goes wrong onboard a yacht, the buck stops with the Captain who is responsible for the total operation of the yacht including safety of the guests, crew, yacht and environment, so I'm happy to be Captain on board such a reliable explorer vessel. With a length overall of 39.37 metres and a beam of 8.60 metres, Aurelia has a displacement of 392t and a Gross Tonnage of 453GT. Her twin Caterpillar C32 A Rating delivering 746kW each, allowed us to reach a top speed that exceed the 14 knots indicated in the Specs and an astonishing range of above 7,000 nautical miles at 10 knots. This result really surprised us as the Specs indicated a range of around 5,000 nautical miles at 10 knots! Hydro Tec succeeded in designing a very efficient hull shape indeed.
CDM Would you please tell us which are the main characteristics of Aurelia's layout and her most peculiar features? I will point out the main characteristics of a layout that proved to be very functional for both guests and crew. Aurelia has an asymmetrical layout on the Main deck. The starboard side of the salon encompasses the side passage on starboard side becoming larger and benefiting from open views onto the sea through large side windows. According to her Owner's wishes, she has only four guest cabins. A large Owner apartment is on the Main deck forward, two Vip suites and a twin are on the Lower deck. A maximum of nine guests is pampered by a crew of six. Instead of a second twin cabin Aurelia features a roomy laundry. She has been designed with long passages in mind hence the need to make the tasks of the crew easier. On the lower deck, astern, Aurelia has a proper gym with plenty of natural light thanks to six skylights. A fully equipped, large and airy gym was indeed one of the main requests of the Owner. The gym features top-end equipment by Technogym such as a stylish treadmill Run Personal, a Skillbike, a Cross Personal and a Kinesis Personal. I'm very proud of the engine room which is really large and very easy to be kept in pristine conditions as there is plenty of space around all machineries, pumps, all sort of equipment and the finishing is impeccable. As a Captain I couldn't ask for more. Aurelia has also an under lower deck with plenty of space for ancillary equipment, storages, freezers and fridges. It allows direct access to the stabilizers, too.
CDM What are the most peculiar features on board? Among Aurelia's genuinely unique aspects it is worth mentioning the A-frame crane that is perfectly encompassed in the deck's flooring. This feature itself is a remarkable piece of engineering purposely developed by CdM's to provide the yacht with a powerful crane to launch an 8.5-metre tender without interfering with full use of deck space. Her Owner wanted a large tender as the one he had on board his previous yacht, a Darwin 102, was a Novurania Chase 19, 5.8 metres, too small for his needs. Now we have an 8.5-metre JokerBoat Clubman 28 EFB. It goes without saying that the A-frame crane also allows much safer launching and hauling operations – a very important help for the crew - and it prevents any heeling. The fact that the tender is loaded and of loaded in the protected water at the stern of the vessel is another plus, indeed. Another remarkable feature are the bulwarks that are collapsible on both sides for around 7 metres to increase the deck space astern. Once the bulwarks are folded down it becomes a beach area of more than 115 square metres. A lot of attention has been also dedicated to toy storage and long permanence onboard and non-stop passages to remote destinations which are among the owner's plans for the near future. Among the 'toys' we have several boards, three mountain bikes, a couple of Seabobs and a complete diving equipment.
CDM There is also a wine cellar that is almost unique, isn't it? Yes, the huge wine cellar is another peculiar feature. It spans two decks - Main and Upper deck - and it actually is also a remarkable design feature as it occupies the entire stairwell. It is composed by two separated wine cellars accessible from the main and upper deck. Each rack (a sort of square column) rotates on a swivel base. The racks rotate manually to give access to all bottles. In total it contains 88 bottles. It has been designed by CdM in conjunction with Romagnoli Inox.
CDM What about her peculiar interior decoration? It is actually something I've never seen on board any yacht... it is so personal and full of character. Every piece of furniture or item is meant to be used in the most relaxed way. I'm not a designer, but I think Aurelia's decoration makes she look more like a sophisticated loft with an industrial feel than a luxury yacht. It is unique in its aesthetics and extremely well built. Everything on board is solid, you feel it. Some of the materials used on board Aurelia are a first for a yacht: have you ever seen cement on bulkheads or ceilings before? Natural oak has been extensively used for flooring, bulkheads and doors throughout the yacht and most electrical conduits are at sight as well as all switches. Roaming around the yacht you see exquisite materials (fabrics by Ralph Lauren, for instance), fine leathers and bespoke pieces of furniture by Paszkowski alongside sofas, armchairs, table and lamps by the most renowned manufacturers, precious antique Persian rugs yet the overall fell is extremely informal and easy. The owner and the duo Paszkowski/Casprini did a great job!
YOU MAY LIKE
THESE ARTICLES
link to article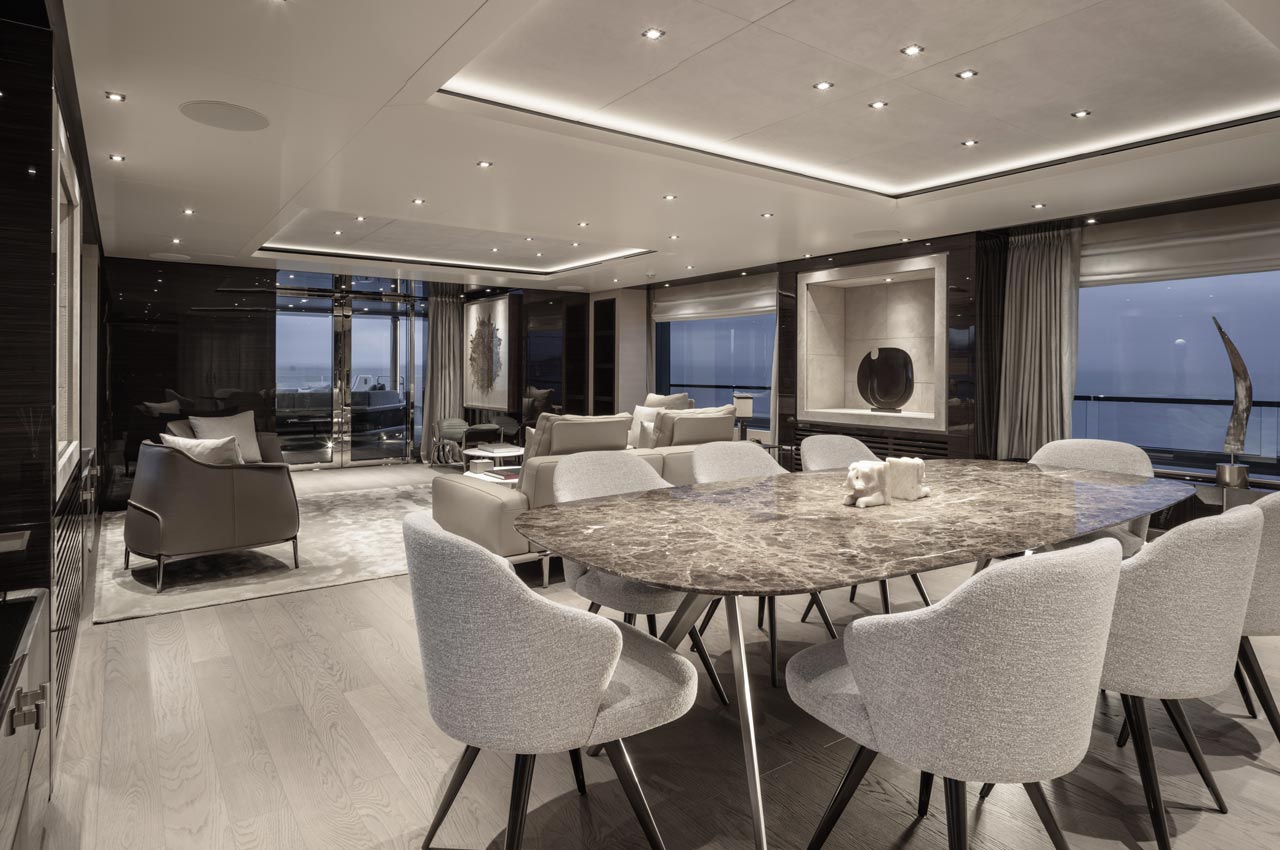 FRANCESCO PASZKOWSKI
AND MARGHERITA CASPRINI
ON THE INTERIORS OF RJ
Francesco Paszkowski & Margherita Casprini - Designers