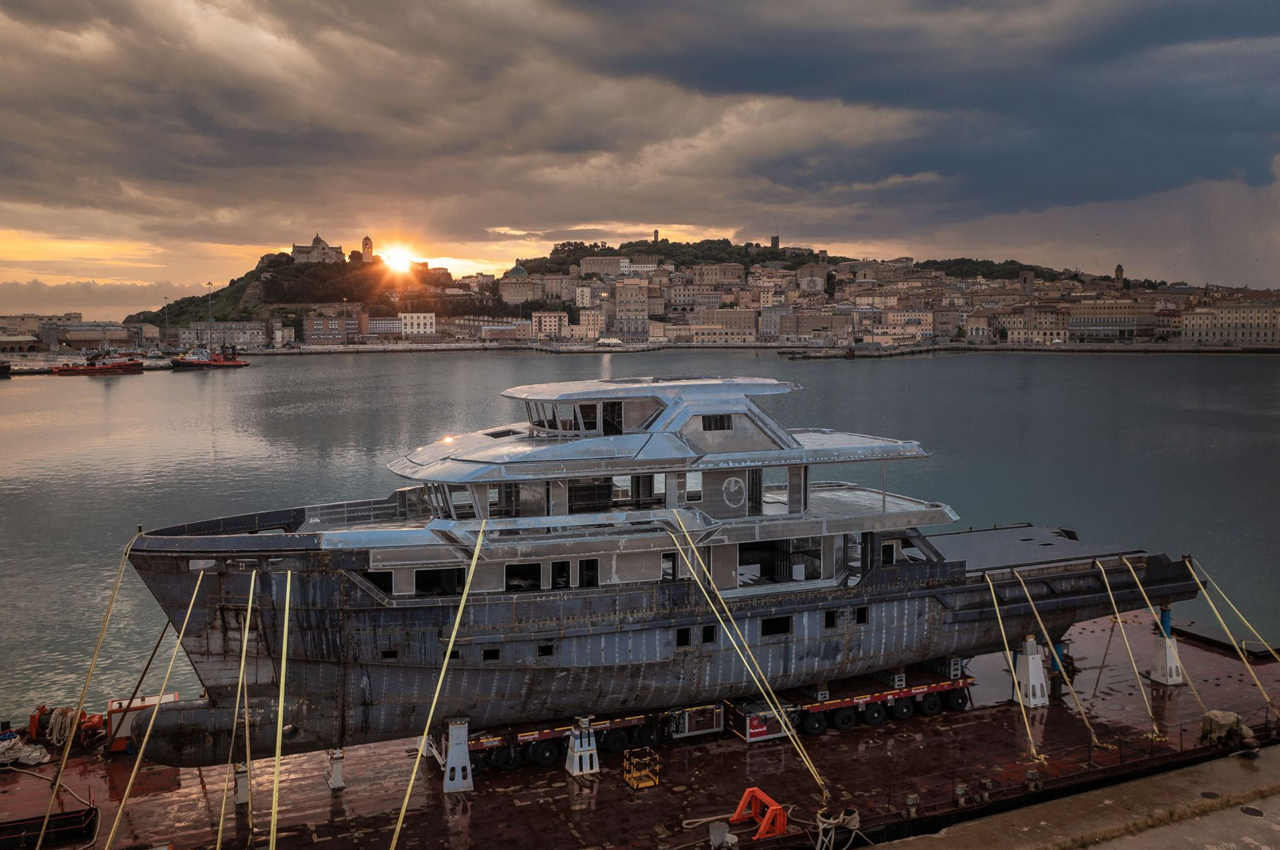 THE FLEXPLORER LINE
Ennio Cecchini - Co-Founder & President
Sergio Cutolo - Naval Architect & Exterior Designer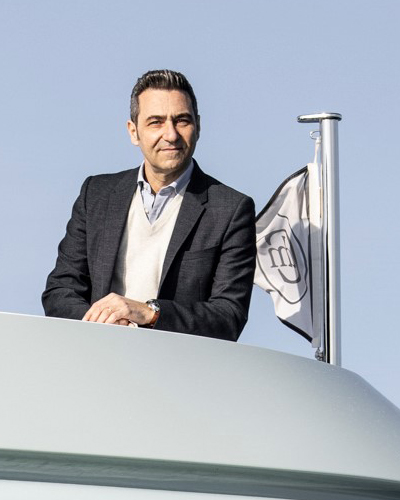 "The creation of the Flexplorer line stemmed from the shipyard's aspiration to advance the Explorer Yacht concept, pushing the boundaries of exploration and granting access to the earth's remotest areas, devoid of any services or assistance," says Ennio Cecchini, co-founder and President of Cantiere delle Marche. "The concepts that were already present in the Darwin line have been further developed in the Flexplorer line, with particular attention to two aspects: further development of internal volumes and the possibility of accommodating unusually large tenders for yachts of this size."
"When embarking on extended journeys without making landfall, it becomes essential to have ample space to accommodate a sizable tender and various other recreational equipment," says Ennio Cecchini.
Tenders of 8 meters and above with an approximate weight of about two tons can be carried by the Flexplorers, thanks to the ample space available at the stern and the tender launching system. The A-frame crane, stemmed from an idea of the company's President and was developed by AMS in collaboration with Cantiere delle Marche's technical Department. Tenders of this size are typically found on 50/60-meter vessels with a Gross Tonnage exceeding 500 GT. However, on the Flexplorer 146-35 there is no A-frame crane because the Owner opted for a jib-crane encompassed in the superstructure.
"The inspiration for the Flexplorer line comes from highly specialized vessels, typically offering support to ships, such as supply vessels, which have extensive aft surfaces designated for cargo. In this case, the space maintains its multifunctionality and flexibility adding to it all sort of amenities and comfort of a luxury yacht," says naval architect and designer Sergio Cutolo.
The exterior lines are modern, harmonious, and muscular, with details featuring sharp lines and edges, highlighting the character and stylistic recognition.
With the three Flexplorer 146 under construction, two paths have been followed:
On one hand, the base-model of the Flexplorer 146 has been developed following the line of the Flexplorer 130, Aurelia, which boasts an unusually large aft main deck for a yacht of her size. One of them, the Flexplorer 146-35, has indeed the same configuration of Aurelia (Flexplorer 130). No need to say that the larger dimensions of the 146-footers offer increased habitable volumes and cargo capacity.
The other two yachts of the Flexplorer line, Flexplorer 146-30 and 36, take a further step adding an additional deck to meet the needs of owners who desire a dedicated owner's deck with private spaces.
All three new Flexplorers will sail at a maximum speed of 14 knots and have a range, at economical speed, exceeding 5,000 nautical miles.
The Flexplorer is a very rational vessel, where engineering and design merge and integrate completely. Form must follow function, as these are extremely practical boats. However, there is a significant human factor that goes beyond practical elements, which is the charm of a project that represents the creation of a shipyard that pioneered a new type of vessel, starting with the idea of creating a niche product and becoming the reference point for that product.
"The concept of a pocket-explorer, that is, a medium-sized explorer, has already reached an advanced level, both in terms of remarkable technical and stylistic aspects, thanks to the careful and consistent work of CdM anf Hydro Tec's teams, which now boasts more than a decade of collaboration" Cecchini maintains. "It has further evolved by creating a medium-sized vessel below 500 GT with unique and unparalleled technical characteristics, encapsulating everything that was missing in a compact yacht, offering owners with a thirst for exploration the opportunity to expand their horizons."
The engine room is one of the sources of that independence as its redundant equipment allow to sail far and wide and to reach remote areas of the globe where it is impossible to access any sort of assistance. An expansive lazarette provides a very large storage area needed for many cruising necessities, water toys, sport and diving equipment, etc.
YOU MAY LIKE
THESE ARTICLES