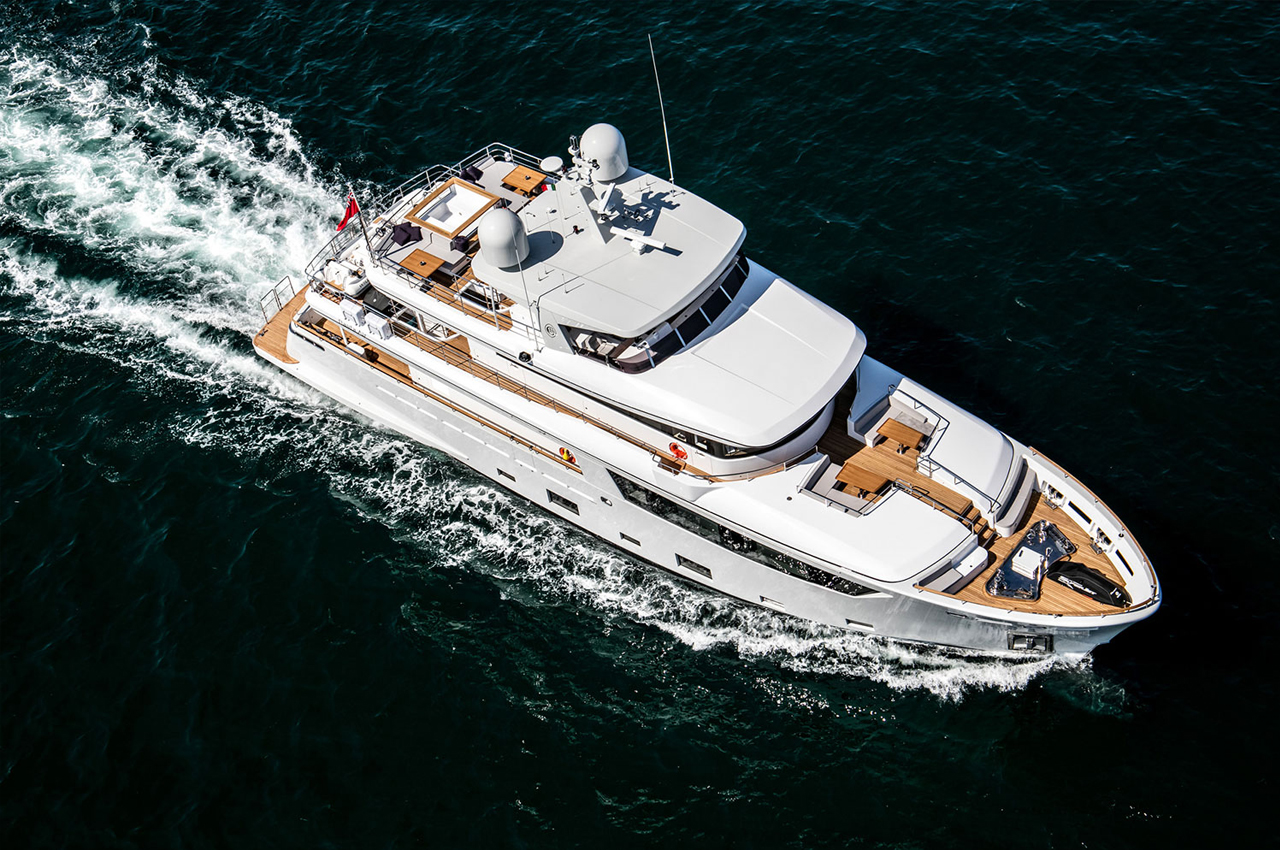 THE STAR: MY NARVALO,
INTERVIEW TO THE OWNER
Owner - M/Y Narvalo
CANTIERE DELLE MARCHE,
ANCONA, 05 SEPTEMBER 2017
Which was your previous yacht and what was the reason why you decided to change it? I had an 88' grp planing yacht and I decided to change it because I wanted to participate closely in the build of a custom, fuel efficient, long range metal displacement boat, with considerably more volume where my family and friends could feel like in a second home.
What made you shortlist CdM during your research and why you ended up choosing CdM as the builder of your next Vessel? I did an extensive research among Italian, English, Dutch, German, Turkish and American yards that build this size of boat. At the end, I found a great team and, for me, the best price/quality ratio at CdM: it is like when buying wine, not necessarily the most expensive is the best. Their sales team did a great job, helping me understanding thoroughly the shipyard's DNA, which made the choice even easier.
We heard a lot about the unique CdM experience as a very important part of the process? Can you tell us something about it? It was for me an intensive, fun, learning and friendly unique experience: attention to detail was there all the time. They were quite responsive of all my frequent requests and always came up with practical and ingenious ideas, the whole CdM team is very passionate about yacht building, indeed.
There sure have been significative moments during the 18 months build which will always be part of your memories: can you share one of these with us? Deal hand shaking with Vasco and Javier in a train, tank test and naval architecture lessons with Sergio Cutolo, many productive and friendly meetings with Nauta in Milan, bulbous bow discussion, great food and wine tasting in Ancona, design visits to Milan, an emotional launch ceremony with all yard workers, management, priest and family, sea trials.... the all process has been and will be an incredible memory for both my family and I.
As far as the exteriors and interiors styling, you have worked side by side with Mario Pedol and his team, who are definitely one of the five top design firm worldwide: how was your experience and what did you like the most? It was a great experience, I was afraid at the beginning knowing that I would be dealing with a company that designed "Azzam" (the biggest yacht out there) and many other successful boats, but to my surprise I found a humble, friendly, efficient and fast reacting team leaded by Mario. They responded to our demanding requests and read very well our thoughts, way of boating and taste. Their ingenuity on how to get the best out of spaces was very helpful, we found every area of the boat during our summer cruising vey well thought in every detail.
Narvalo is a beautiful name for a ship which is also ready to read whatever your language: where did it come from? It always caught my attention this almost mythological whale, the Narwhal (Narvalo in Italian), with its unicorn type tusk. It also reflects the long-range capabilities of the Nauta Air with its Explorer DNA able to reach the north pole waters where this magnificent mammal lives. Also, the bulbous bow selection was somewhat related. In order to have the Narvalo theme penetrating the inner essence of the yacht, Nauta and CdM did a great artistic tribute to Narvalo in the main glass staircase with a tusk sculpture which passes through the decks creating a real unique feature.
There is no doubt that the open transom which creates a stunning beach club and a unconventional/effective design of the boat is one of the highlight of the Nauta Air 108. After your recent maiden voyage, can you tell us something more about it? We used it a lot, it is a very social area and complemented with the optional submersible platform it turns into a three-level comfortable beach club and water sports activity center. A feature which I really like to, is the aft deck shaded area very important for those like me who don't like the direct sun exposure.
You have cruised extensively on the Med last summer. Could you share with us three of your best places you have visited on board of Narvalo? Woow, that's a difficult question, we visited more than 25 places in the Adriatic, Ionian, Aegean and Med seas. I asked a similar question often during dinner with family and guests on board and gladly received different positive answers. For me the best were: nature and cruising wise Skradin and Mljet in Croatia, entering the bay of Kotor in Montenegro, Fiskardo, Navagio beach, Ithaca, crossing the Corinth canal (both day and night) and Foligandros in Greece. Party wise the best were Hvar in Croatia and Mykonos in Greece.
We know the vessel is ready to cross the Ocean in a short while. What are your feelings before the departure and which cruise plan expects Narvalo? I decided not to cross the Atlantic on its own keel this year because I don't have the time, but it is in my bucket list to do it in the near future, Narvalo is perfectly capable for doing it. Narvalo will participate in the Antigua boat show and will be cruising the Caribbean waters this coming winter, I can't wait to be on board again!
YOU MAY LIKE
THESE ARTICLES